Updating BR1M Information
BR1M aid is available again. There are no need for existing successful BR1M recipients to reapply for the aid. However, applicants are responsible to make sure their information such as bank acoount and mailing address are up to date. This article would be a guide on how to update BR1M information online. In order to continue to receive BR1M, applicants must update their BR1M information
BR1M website will only be opened on certain dates. To keep update on latest BR1M information, you may follow our Facebook page at here. Feel free to contact 1-800-88-2716 (LHDN), 03-8882 4565 or 03-8882 4566 (Ministry of Finance) or nearest LHDN office if there are any issue arises during the BR1M application. Emails can also be reachable via [email protected]
Items needed BR1M Online information updates
Applicants MyKad details
Latest Banking information, addresses
Dependencies MyKad details
1. Look for "Kemas Kini Permohonan" at the upper menu in the BR1M website
2. Key in existing applicants Mykad number. If you are an existing BR1M receiver, a few secret questions will be prompted before the update process.  Follow and answer the questions.
Do take notes that 2 secret questions will be asked. Failure to answer any correctly for 3 times will cause the system to lock your account. You will have to visit the nearest LDHN branch to resolve the matter. Do bring along a copy of MyKad for each applicant, spouse and dependencies.
2. Existing information from your previous applications will be displayed on the applicant's details part.
Please update the important details such as mailing address, contact number , and banking information.
Do take note that for BR1M online application, the will be auto credited directly into eligible applicants account. The bank account being used must belongs to applicants only. No joint name , company ,loan or other types of accounts are permitted. The supported banks are.
Affin Bank Berhad
Agro Bank
Alliance Bank Malaysia Berhad
AmBank Berhad
Al Rajhi Banking & Investment Corporation
Bank Islam Malaysia
Bank Kerjasama Rakyat Malaysia Bhd
Bank Muamalat Malaysia Bhd
Bank Simpanan Nasional
Cimb Bank Berhad
Citibank Berhad
Eon Bank Berhad
Hong Leong Bank
HSBC Bank Malaysia Bhd
Malayan Banking Berhad
OCBC Al-Amin Bank Bhd/OCBC Bank
Public Bank Berhad/Public Islamic Bank Berhad
RHB Bank Berhad
Standard Chartered Bank Malaysia Bhd
United Overseas Bank(Malaysia) Berhad
4. Key in additional information (For applicable)

5. Key in beneficiary information for BR1M insurance
BR1M insurance or "Skim Khairat Kematian" is also included for family or single applicants. This scheme will enable the beneficiary to enjoy a one time payment of RM 1,000 in case of unfortunate incidents. The scheme will start with immediate effect on 1st January 2014 to 31st December of 2015. Applicants will have to key in the insurance beneficiary information such as Mykad number, Name and Telephone number.  A confirmation code will appear, applicants should review their information. Once confirmed, applicants will have to click "HANTAR" to proceed.
6. Confirm BR1m Information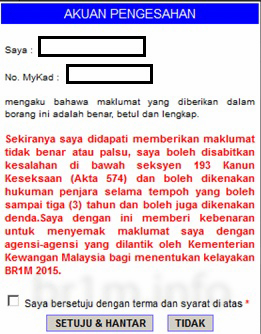 A popup will appear displaying the applicant name and information. Click "Saya Bersetuju" , I agree to confirm all submitted information are correct.
7. Print Information
Applicants are also advised to print detailed information for record keeping. The information has been sent to LHDN for processing.