How to apply for BR1M Online
BR1M Online application will be opened following the announcement by LHDN. New applicants who qualify for BR1M will have wait for the exact date of the Website to be released. Too keep in touch with the latest BR1M information. You may follow our Facebook page here. All family, single parents and senior citizens BR1M applications are done on the same website. Only newly eligible applicants will need to apply for BR1M aid. Existing qualified applicants will only need to update their data on BR1M website.
Feel free to contact 1-800-88-2716 (LHDN), 03-8882 4565 or 03-8882 4566 (Ministry of Finance) or nearest LHDN office if there are any issue arises during the BR1M application. Emails can also be reachable via [email protected]
Items to prepare for BR1M Online applications
Identity Card ( IC ) Information for eligible applicants.
Latest mailing address of eligible applicant
Latest banking information (Bank account Number). Only applicants bank account are permitted to receive BR1M funds. No joint name, company, loan and other accounts permitted
Identity Card ( IC ) Information for spouse an all dependencies
1. Click "Permohonan Baru" for new BR1M application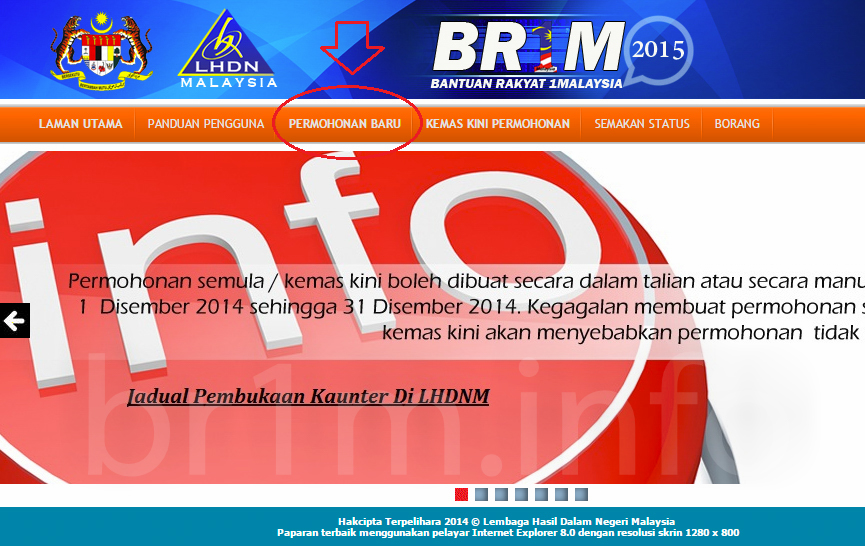 2. Key in the IC number for the applicant and click "Hantar"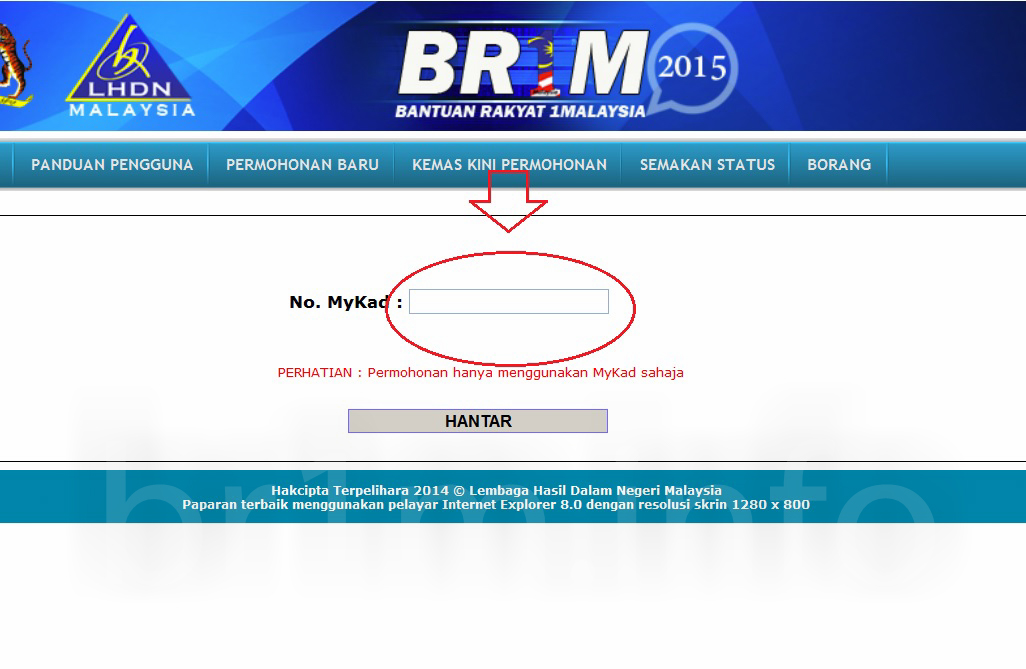 3. The Name and MyKad number will be automatically displayed and there are no need to key in again.
Key all information which includes applicant's martial status, contact number, occupation,up to date bank information and address
Do take note that BR1M will be auto credited directly into eligible applicants account. The bank account being used must belongs to applicants only. No joint name , company ,loan or other types of accounts are permitted. The supported banks are.
Affin Bank Berhad
Agro Bank
Alliance Bank Malaysia Berhad
AmBank Berhad
Al Rajhi Banking & Investment Corporation
Bank Islam Malaysia
Bank Kerjasama Rakyat Malaysia Bhd
Bank Muamalat Malaysia Bhd
Bank Simpanan Nasional
Cimb Bank Berhad
Citibank Berhad
Eon Bank Berhad
Hong Leong Bank
HSBC Bank Malaysia Bhd
Malayan Banking Berhad
OCBC Al-Amin Bank Bhd/OCBC Bank
Public Bank Berhad/Public Islamic Bank Berhad
RHB Bank Berhad
Standard Chartered Bank Malaysia Bhd
United Overseas Bank(Malaysia) Berhad
4. Key in additional information (If applicable)

The Name and MyKad number will automatically appear so applicant will not need to key in again. Additional information such as spouse MyKad number, Name and income. Dependencies information are also needed if applicable
5. Key in beneficiary information for BR1M insurance
BR1M insurance or "Skim Khairat Kematian" is also included for family or single applicants. This scheme will enable the beneficiary to enjoy a one time payment of RM 1,000 in case of unfortunate incidents. The scheme will start with immediate effect on 1st January 2014 to 31st December of 2015. Applicants will have to key in the insurance beneficiary information such as Mykad number, Name and Telephone number.  A confirmation code will appear, applicants should review their information. Once confirmed, applicants will have to click "HANTAR" to proceed.
6. Confirm BR1m Information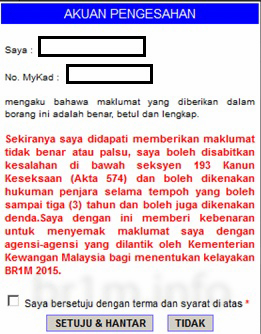 A popup will appear displaying the applicant name and information. Click "Saya Bersetuju" , I agree to confirm all submitted information are correct.
7. Print Information
Applicants are also advised to print detailed information for record keeping. The information has been sent to LHDN for processing.
BR1M application can be done at
https://ebr1m.hasil.gov.my/